Oracle Sun Ray 3
Oracle's Award Winning, Environmentally Focused Product Family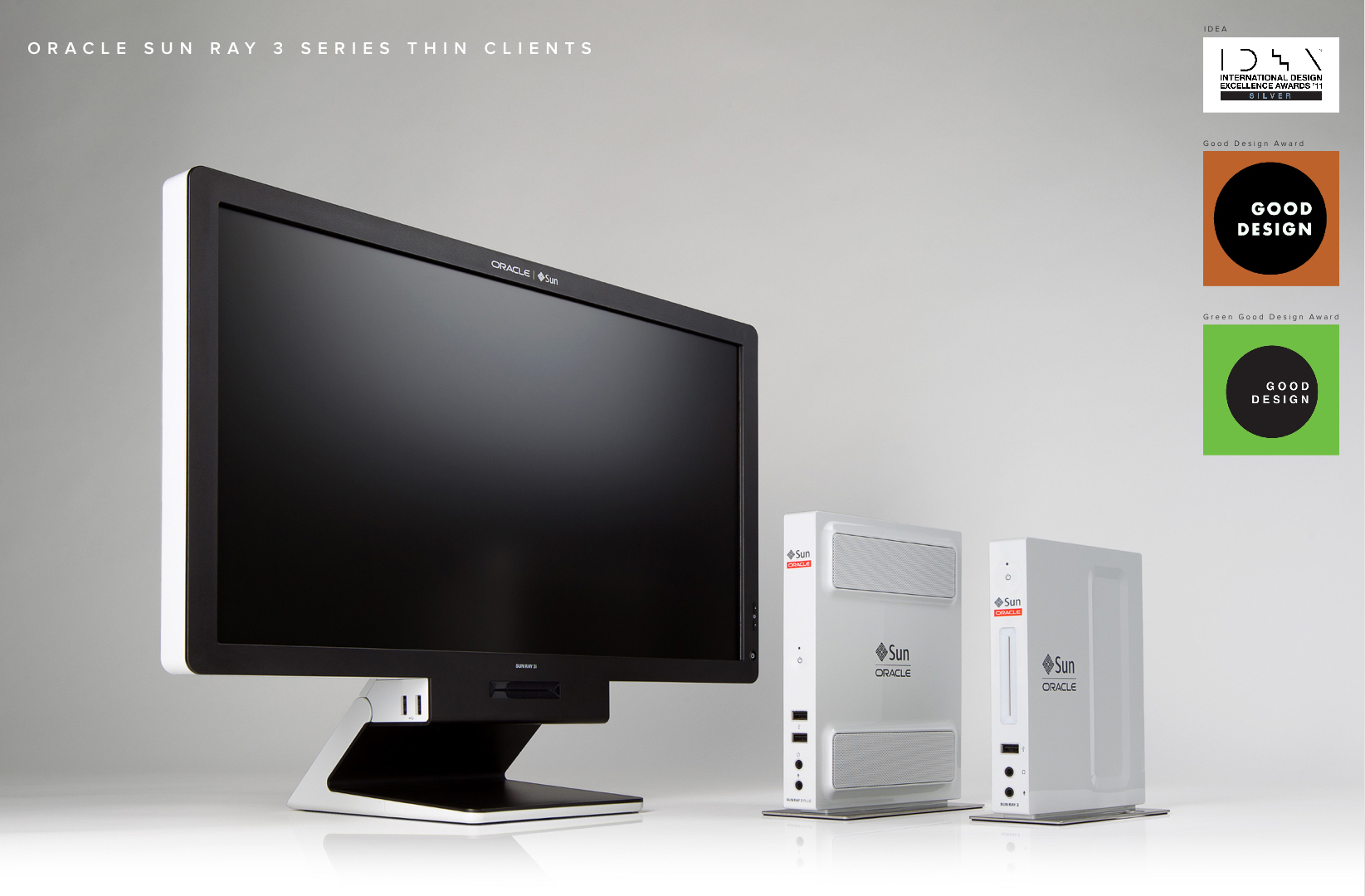 What is a thin client?
A Client is a product well-suited for use in call centers, public sector, healthcare, education, service providers, manufacturing, finance or other industries where multiple users share common workspaces, or reuqire efficient and secure mobile access to their information from location to location.
Responsibilities
• Lead and primary designer producing design assets for the entire family
• Rough concept sketches, 2D concept illustrations, control drawings/specifications
• Collaboration with electrical and mechanical engineers
• Defining physical user interfaces in collaboration with Human Factors Engineers
• Colors, materials, finishes
• CAID/CAD work and 3D printing for Industrial Design related development
• First article inspections of parts and prototypes at manufacturing facilities
• Out of Box (OBE) evaluation with HFEs (Human Factors Engineers)
Goal
Evolve an appropriate DESIGN LANGUAGE and USER EXPERIENCE for the follow-on products to the Sun Ray 2 Series Thin Clients and put an emphasis on environmental impacts of the design.
High level goal: Create the most energy-efficient and ecologically-responsible thin client products in the world.
Challenges
Design a B2B product on par with consumer level products without advantages B2C products have such as economies of scale (high quantity drives down costs and allows for higher quality and/or custom components at lower prices). In other words, do more with less.
Reduce environmental impact. Environmental factors tied to the industrial design include:
• Eliminate use of fans with an effective convection cooling strategy
• Select materials without paints or adhesives or hazardous content
• Design products to pack effieciently to reduce shipping and fuel needs
• Eliminate moving parts to increase lifespan and decrease the need to replace or repair
Competition
Managing Trade-offs in Layout
Usability, frequency of use, component height vs. overall form, hot components vs. cold, and center of gravity/stability had to be considered for placement of each component. Some components had special requirements like the wireless antenna which needed to avoid obstructions and be kept clear of the power components due to the noise they can generate. Some components, like connectors, were positioned based on frequency of use and how what might be connected could cause other usability problems.
Early Concept Development
Concept Development - Sun Ray 3, 3 Plus
Concept Development - Sun Ray 3i
Concept Development - Details
After the decision was made to go with a capacitive switch, the next step was to ensure that users knew it was a switch. Final design was decided after group reviews with other designers and Human Factors Engineers.
Rapid, Iterative Design and User Testing
Final Product Release - Sun Ray 3i
Although the biggest surface on the back appears flat, it isn't. The surface was made slightly convex to counter a common visual perception with large flat surfaces that they appear slightly concave... and that can give a product the appearance of being poorly executed.
The Sun Ray 3i model is 141mm (5.55in.) wider than its predecessor, the Sun Ray 270, and went from a 17.5" display to a 21.5" while only increasing 0.28Kg (.62lbs) in weight due to its "chassis-less", monocoque design which also eliminated parts and improved disassembly for recycling. (driven from the ID side, successfully implemented by the ME side)
Sun Ray 3 Plus Production Release
Sun Ray 3 Production Release
Sun Ray 3 Wins (not limited to Industrial Design)
• Compact, lightweight design to minimize the use of materials
• Minimized the use of moving parts to increase lifespan and decrease the likelihood of failure or the need for repair.
7X lifespan of a typical PC desktop. 22-year mean time between failures (>200,000Hrs MTBF).
• Illuminated cardslot that activates to signal successful read/login.
• Passive cooling. No noise. No fans. Less power use.
• Both EPEAT Silver and ENERGY STAR 5.0 certification. Sun Rays are the only complete thin client product line to meet both for every product.
• Painting of plastic parts was eliminated and use of adhesive and screws was minimized, drastically improving recyclability. The enclosure is no longer painted silver and is now molded in high gloss, light gray.
• Easily separable material streams for recycling. 98% recyclable. A maximum of 2% of the Sun Rays' material ends up in landfill.